Several times a year I update Trinidad & Tobago's borough and town database for Hermitt.biz. When I perform the update I do a quick population check for each borough.
I had mentioned in a previous post about visualizing data, that I collect data from various sources, which I mainly use to generate a list of boroughs and towns when populating menus. Some of the data sources contain population information which I also store.
Most of the population resources I've come across, lists the population as a total number, or has irregularities.
Recently I noticed the wikipedia article for Trinidad & Tobago has a population breakdown under demographics, but it looks a little outdated.
Trinidad & Tobago Population Pie Chart
Earlier today I updated the database on my local machine and was looking over the data in preparation to update the database on Hermitt.biz.
I decided to generate a pie chart of the population for each borough, mainly out of curiosity. The pie chart contains the borough, population and the percentage of the total population.
It looked about right, so I decided to share the chart. If you click the image, it should open in a new tab. You can download it from there.
There's no legend, all the data is embedded in the chart itself, this way I could get a larger chart without having to worry about truncating data.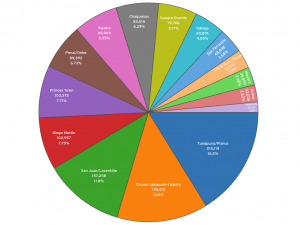 Population Table
If you prefer raw data, here's the population data in a table. This is pretty much the result I got when I ran the SQL query to check the population of the boroughs.
| Borough | Population |
| --- | --- |
| Tunapuna/Piarco | 215119 |
| Couva-Tabaquite-Talparo | 178410 |
| San Juan/Laventille | 157258 |
| Diego Martin | 102957 |
| Princes Town | 102375 |
| Penal/Debe | 89392 |
| Siparia | 86949 |
| Chaguanas | 83516 |
| Sangre Grande | 75766 |
| Tobago | 60874 |
| San Fernando | 48838 |
| City of Port of Spain | 37074 |
| Mayaro | 35650 |
| Arima | 33606 |
| Point Fortin | 20235 |
Feel free to copy the data also (if you haven't already).
If you notice any mistakes or have questions about the data, don't hesitate to contact me.