Anyone familiar with the old search console knows that manually adding each URL or even digging through the links to find the "Resubmit Sitemap" button can be tedious.
I recently logged into the Google Search Console Beta and noticed a new link on the left labelled "Re-crawl Now". I thought "oh wow, finally I can re-index some of my pages without having to switch back and fourth between the old Google Search Console and the new Google Search Console Beta." However, that wasn't the case.
When I hovered over the link I noticed the URL pointed to a YouTube page. I thought "maybe it's a Google Chrome glitch," so I moved the mouse off the link and then back on to the link. It was still pointing to the YouTube page.
Confused, I clicked the link…and was taken to the YouTube page with the infamous "Rick Astley – Never Gonna Give You Up" video.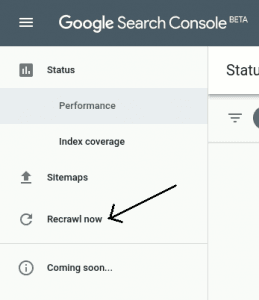 There I was perplexed for several minutes. Then I realised it was April 1st…April Fool's day.
You got me Google, you got me good 🙂