Creating a new Twitter application requires several important steps. First we must register a new application, after the registration is complete we are provided connection keys, which we use to connect to the Twitter API. Once we are connected to the API we can retrieve or post information, depending on how we setup our application. In this article we'll focus on registering a new application.
New Application
To create a new application visit the Twitter application page (apps.twitter.com), and sign in with your credentials. If you don't have an account, simply create one and use the credentials to sign in.
When signed in you will have the ability to "Create New App", which allows you to create new applications. If you have previously created applications, they will be listed here for you to access.
Get started by clicking "Create New App".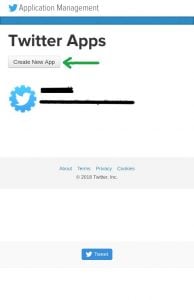 Create Application
Creating an application requires you to provide some details about your new application.
First you must enter the "Name" of your application. Next you must enter a "Description" of your application. You will also be asked to provide a "Website" for your application, if you don't have a URL you can use a placeholder and change it later.
Don't forget to accept the "Developer Agreement".

Twitter Application Details
After your application has been successfully created, you will be redirected to the application details page, which gives you a summary of your application.
You can edit your application by visiting the links provided on this page. Further down, you will find the URLs you need in order to authenticate and request data from Twitter.

Application Settings
On the application settings page you can update your application information, if needed. You can also add an icon for your application, if you have one.

Application Keys & Access Tokens
On the application keys & access tokens page, you can find your consumer key (API Key) and consumer secret (API Secret), which you may use to authenticate a request to the Twitter API.
You can regenerate your Consumer Key and Secret, in the event your key and secret have been compromised. And you may also "Change App Permissions" if needed.

Application Permissions
The application permissions page lets you change your applications permissions. Your default application permission should be set to "Read and Write", which will let you retrieve and post tweets to a Twitter account. Setting this option to "Read only" will let your application read tweets from any public Twitter account (in another article I will post a tutorial on how to read tweets from any public twitter account.)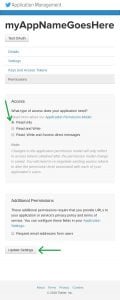 That's all you need in order to register a new application with Twitter. However, depending on the type of application you are building, you may need to change a few settings to reflect your own application.