Recently I was having a conversation with a friend; her parents had recently made a trip to Trinidad & Tobago, as they often do. I asked her about their trip and she replied with the often heard "lots of rain, weather is hot, crime is everywhere"; I said "yeah, that about sounds right"; then she said "this is gonna sound strange, but they didn't have any coconut water." I paused for a second, processing what she said. "Everywhere sells coconuts," I replied naively; "that's what I thought also, but everywhere they went, they didn't see anyone selling," she replied.
Coconut vendors, where are you?
Now, there could be any number of reasons why her parents couldn't find coconut vendors; bad timing, poor location, not paying attention, are just a few reasons that come to mind. However, she was confident that none of those were valid reasons. I had to agree with her; whenever I visit Trinidad & Tobago, no matter where I go, I am always looking out for a coconut vendor. Now this may seem strange to some of you living on the island, but when you've abroad for a long time, some of the mundane things are the things you miss the most.
So I decided to do a little research into the missing coconut vendors; what I came up with was quite interesting.
Coconut vendor turf wars
In June, 2012, the Trinidad Express published the article "Savannah coconut vendors in turf war". Baldeo Babwah who was president of the Coconut Vendors Association was quoted saying:
"'Now we have a problem where non-members of the association are flooding the Savannah in the vicinity of the QRC and in turn destroying the business of association members who have been established at the Savannah for years',"
The Coconut Vendors Association was formed in the early 1990's, under the People's National Movement (PNM). A stretch of roadway near the Queen's Park Savannah was demarcated for several coconut carts.
Problems arose when an individual named Ian Wiltshite, spoke to the vendors about replacing their vans with retro coconut carts. The vendors agreed, but when Babwah took his cart in for repairs, Wiltshite had given his cart to another individual named Roop Sammy, who was not a part of the Coconut Vendors Association.
Wiltshire clarified the situation in an email, saying:
"'I have always had problems with Mr Baldeo (Babwah) in particular not keeping his carts in a clean and hygienic condition, he would never ever discard his shells in a timely manner',"
Wiltshite also said in the email:
"'Some of the vendors he employed collected garbage to the point that the residue started to rot the steel that the carts are made from. He would always have an excuse',"
The Trinidad Express added that:
"Babwah said he fears the turf war may become physical as he was the victim of an attack on his cart a few years ago."
Vendor Fees
In November, 2012, the Guardian newspaper published an article titled "Savannah coconut vendors willing to pay $700 fee". The article starts with:
"Spokesman for the Coconut Vendors Association Jessica Babwah says coconut vendors are willing to pay the $700 a month fee imposed by Port-of-Spain mayor Louis Lee Sing. Lee Sing imposed the charge for the vendors to ply their trade around the Queen's Park Savannah last June. "
According to the article:
"[..] from January 1, 2013, every vendor would pay $700 to sell around the savannah."
The article also highlights the strife between the coconut vendors and local government, stating:
"[…] Lee Sing 'randomly' called rates for the vendors to pay to the corporation. 'He started at $1,000 and was not taking it seriously. On Wednesday, they gave us an ultimatum, that if we don't meet the fees or a cart, we cannot sell any longer',"
Continued with:
"Babwah also denied Lee Sing's comment that there was no coconut vendors' association. […]"
Finally:
"Babwah also denied Lee Sing's charge that there was a "coconut mafia" operating around the savannah. […]"
Importing of bottled coconut water
In August 2014, The Trinidad Express published the article "Coconut industry facing new threat: Vendors worried about imported product from Guyana." While the article sheds light on imported coconut water, it also draws attention to several other areas that were affecting coconut vendors.
With the increase in demand for coconut water, stakeholders in Trinidad & Tobago's coconut industry were trying to preserve the local market for coconut vendors. Around this time period there were numerous claims on the health benefits of drinking coconut water, which apparently saw a sharp increase in the demand.
The article stated:
"[…] it is due to this high demand that many supermarkets are now making regional purchases."
Guyana and Jamaica were seen as alternatives for a steady supply of coconut water, as they were selling it much cheaper than local coconut farmers.
The article continues:
"In Trinidad it costs roughly $15 per litre when a local company purchases the coconut water from coconut farmers or vendors.
However it costs $10 per litre if imported from Guyana after it has been cleared at the port."
It then went on to say:
"Supermarkets across the country sell the bottled coconut water at an average cost range from $30-$40 per litre, $50-$60 per two-litre or $13-$15 per 500ml. Local coconut vendors sell for $7 to $10 per nut at their stalls depending on where the consumer purchases."
In regards to the revival of the local coconut industry and the red ring disease, it stated:
"Despite the number of coconut plantations […] initiatives have been taken by the State to engage in the revival of the coconut industry. The industry is still on the verge of collapse and disappearing […], crop rehabilitation and disease pest control methods are required. The Ministry of Food Production in 2012 sought the assistance of Indian agricultural specialist Dr Avvaru Sujatha to restore the industry through fighting against the red ring disease. […]"
The time frame for imported coconut water vs. local coconut water is also something to consider. It should go without saying that if you purchase imported coconut water from a supermarket, the coconut water is not fresh as it would be, if it had been sourced locally.
About the timing in imported coconut water, the article had this to say:
"The advantage with the local coconut water is that it is fresh, bottled and in supermarkets faster than it would take to import. It takes an average of two weeks for the chilled coconut water to reach Trinidad whereas it takes less than 48 hours if locally purchased, Gopie said."
It seems it's not just coconut water, but also the bottling of coconut water.
"[…] some importers have entered into joint ventures with bottle manufacturing companies in other parts of the region despite having approximately 37 plastic and glass bottle manufacturers in Trinidad and Tobago. Distributors can use local raw materials to supply the consumption needs of its customers however this is not the case […]."
We're all out of nuts
In September, 2016, the Toronto Star (a Canadian news paper) published the article titled "The Caribbean is running out of coconuts." The article points out several factors which has affected not only Trinidad & Tobago, but the entire Caribbean.
In the article a report from the United Nations Food and Agriculture Organization stated:
"[…]. Storms, droughts and the Lethal Yellowing disease, spread by plant-hopping insects, have wiped out entire farms; growers have failed to invest in new trees, or fertilizers to improve yields. Caribbean plantations have shrunk by about 17 per cent since 1994, according to the UN's Food and Agriculture Organization."
It also quoted Compton Paul, who is co-ordinator of a regional coconut program at the Trinidad-based Caribbean Agricultural Research and Development Institute; he said;
"It's fair to say that at this pace, the Caribbean is running out of coconuts,"
As previously mentioned, the problem is not endemic to Trinidad & Tobago, it's a problem facing the entire region. The article pointed to an issue in the Dominican Republic, which stated:
[…], production has dropped by about 60 per cent in two decades, according to the local association of growers. […] quantity isn't the only issue […] Our biggest problem is that the farmers aren't growing enough quality coconuts."
With the growing fad of coconut water, some Caribbean farmers have been buying up as much of the local fruit as they can, bottling it and then exporting it to foreign markets.
The article had this to say:
"[…] export-oriented Caribbean farmers […] buying up all the fruit they can, locals risk losing out. Typically, green coconuts for water have been so plentiful and cheap […] prices are rising, […]"
The Toronto Star also mentioned the fake coconut water scandal that made headlines in Trinidad & Tobago. In regards to the fake coconut water it said:
"[…] while grocery shelves are filling up with thinned-out or even fake versions. Trinidad & Tobago's Health Ministry in May confiscated bottles labelled as coconut water from stores, saying they contained only water and chemicals."
Dry Coconut
I decided to rework the historical agricultural prices graph I did a few weeks ago and re-purpose it to display the yearly average price of items selected. Unfortunately it only has dried coconuts in the price list. Nonetheless, the upwards trend of rising prices confirms that coconut prices have been rising.
The price of dried coconut has seen a sharp increase since 2013, when it was priced at a little over $300 TTD per 100 coconuts. As of 2017 the price of dried coconut is a little over $500 TTD per 100 coconuts.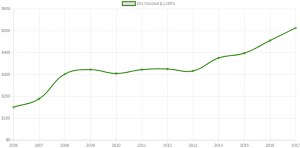 Final thoughts
I originally started writing this blog post with the notion of it being something simple. After I come across the article "The Caribbean is running out of coconuts," I deleted everything and started over. I wanted to make sure I got all the facts straight, because while coconuts aren't exactly a staple in Trinidad & Tobago's diet, it is part of the culture.
As it stands, my friend was onto something after all, or at least her parents were. Currently I'm not sure what the future of coconuts looks like in Trinidad & Tobago let alone the Caribbean.
However I did find this document titled "Coconut production technology" which is a report put together by Evans Ramkhelawan and Compton Paul (previously mentioned). It is a coconut industry development plan which outlines processes and techniques for the cultivation of coconuts.